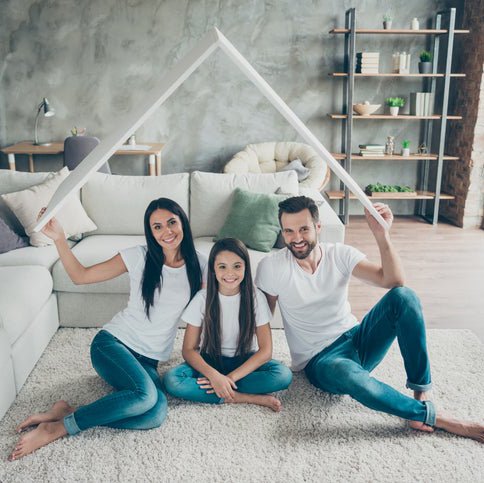 10 States With The Highest Home Prices In 2022
There's a reason I live in my dad's girlfriend's basement: housing isn't cheap.
---
Key points
The median home price in the United States is $428,700, according to data from the Federal Reserve Bank of St. Louis.
Hawaii and Washington, DC have the highest home prices in the United States
To manage high costs, you can search for homes in less expensive cities and research the best mortgage rates.
---
As a resident of the third most expensive state to buy a home, I can confirm that finding an affordable home in Southern California is like finding a millennial who hates avocados and free shipping. The median price of a home in the United States has risen 30% since 2020, according to data from the Federal Reserve Bank of St. Louis. The typical price of a home in the United States is now around $429,000, according to data from Zillow.
That said, home prices in some areas are less affordable than in others. The Ascent studied the average home price by state, and the results are in: The following 10 states have the highest home prices in the country.
1. Hawaii
A typical home in Hawaii costs $1,038,544. This is — pull out the calculator – almost 2.5 times the cost of an average American house. Holy mackerel. Ocean views and tiny martini umbrellas don't come cheap.
2.Washington, D.C.
The District of Columbia takes the money for the highest house prices. A typical home here costs $826,124. Despite the density of the state's high-earning population, homeowners typically pay more than half of their income to cover their mortgage payments.
3. California
A typical home costs $816,804 in California. Expensive. Wondering how many surf lessons this could cover? Probably a lot. Much to the relief of a prospective owner, these aren't all Los Angeles and San Francisco prices. The typical house in Fresno costs $403,000, according to Zillow.
4.Washington
The Evergreen State is one of the least affordable states for buying a home, with a typical home price of $640,494. Homeowners here often pay 49% of their income to cover their mortgage.
Check out: We ranked this company as the best overall mortgage lender in our Best-of 2022 awards
More: Our picks for the best FHA mortgage lenders
5.Massachusetts
A typical house costs $611,819 in this state. High-demand areas like Harvard's college town of Cambridge are even more expensive, but there's an upside: property taxes in Cambridge and Boston are relatively low.
6. Colorado
House prices are skyrocketing in this hiker's and beer-lover's paradise. Typical cost is $604,911up from $412,819 in 2020. Although residents often earn more than the national median, a typical homeowner pays around 45% of their income to cover their mortgage.
7.Utah
A typical house in Utah costs $588,862, 37% higher than the national median. If you're hoping to buy a home in the state, consider Brigham City, where the median home price is under $412,500, according to data from Redin. It's also one of the best places to buy a home in Utah, according to Niche.
8. Oregon
Many homeowners struggle to pay off a mortgage in Oregon. A typical house costs $534,956, and mortgage payments consume 43.3% of the typical homeowner's income.
9. Nevada
Nevada has a median home cost of $484,530. However, the median price for a single-family home in Las Vegas is slightly more affordable at $447,597, as Zillow reports.
10. New Jersey
To complete the list, New Jersey, where a typical house costs $480,275. It's not cheap, but it's only 12% above the national median, which is less than many states on our list. Some Garden State towns offer even better prices: the median price of a home in Newark is just under $415,548.
How to make the most of a tough housing market
If you are an owner in one of the above states: Congratulations! You may have valuable possessions in your hands. If you decide to sell, you will have significant pricing power.
However, buyers are struggling right now. Buying a home is rarely easy, especially in a market that has grown 416% over the past 40 years, far outpacing incomes. Common wisdom recommends that a mortgage cost less than 28% of their total income, but the typical homeowner spends more than 30% of their income on mortgage payments. Yeah-ouch.
If you are determined to buy a home in one of the states with the highest home prices, you may have options. For example, California cities like Visala, Fresno, and Bakersfield offer housing at prices well below the state average. And while a typical home in Denver, Colorado might cost $643,043, a comparable home in Colorado Springs costs $491,000, according to Zillow.
To start figuring out what you can afford, try The Ascent's nifty mortgage calculator.
Some other tips to help you get started:
Be frugal. Shop around with the best mortgage lenders to find a good interest rate and low closing costs.
Prepare for change. Build up an emergency fund in case things go wrong, you lose your job, or you just have an unexpected repair to your home.
Of course, most people don't have the luxury of renting one of California's two basements. It is very good. Across the United States, homebuyers have options. As long as your forever home isn't more than you can afford, you're in a good place.
The Best Mortgage Lender in Ascent in 2022
Mortgage rates are at their highest level in years and should continue to rise. It's more important than ever to check your rates with multiple lenders to get the best possible rate while minimizing fees. Even a small difference in your rate could reduce your monthly payment by hundreds.
This is where Better Mortgage comes in.
You can get pre-approved in as little as 3 minutes, without a credit check, and lock in your rate at any time. Another plus? They do not charge origination or lender fees (which can reach 2% of the loan amount for some lenders).
Read our free review