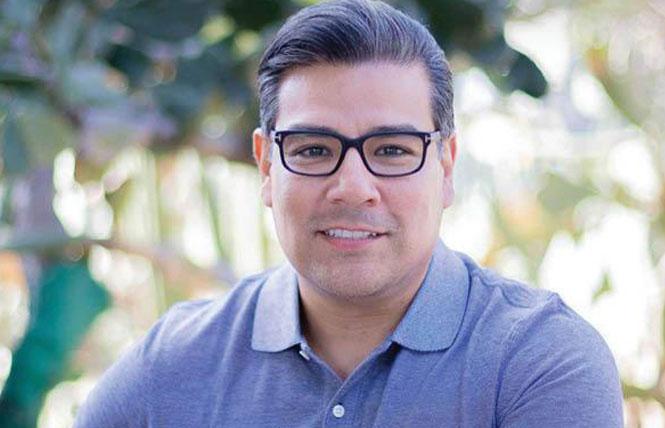 Gay CA insurance czar Lara survives major challenge
California's gay insurance commissioner Ricardo Lara survived an intraparty challenge in his primary race on Tuesday to qualify for November's general election where he could run against a Republican opponent. Because several other candidates did not fare as well in their primary races, Lara is expected to remain California's sole LGBTQ state leader if re-elected.
His election four years ago marked the first time an LGBTQ person was elected to a statewide office in the Golden State. But after a turbulent first term plagued by ethics scandals dating back to 2019, Lara faced a challenge this year not only from several Republicans, but also from Congressman Marc Levine (D-Greenbrae), who aired attack ads against Lara that portrayed him as unfit to remain the state's insurance czar.
Still, the incumbent's power and the strength of the Democratic vote, as Lara won the California Democratic Party's endorsement, appear to have helped the Latino Los Angeles County politician fend off Levine. Lara took first place in the primary with 37% of the vote, according to unofficial returns Wednesday.
"I want to thank the voters of the California primary for sending me to the general election by a margin of 2 to 1! I look forward to continuing to develop the important work we have done for consumers," tweeted Lara, a former state legislator.
He could face in the fall elections Republican Robert Howell, who was in second place with 17.8% of the vote on Wednesday. As for Levine, he was in third place with 16.8% slightly ahead of fourth, GOPer Greg Conlon, who had 16.5% of the primary vote.
In a statement released on election night, while in second place, Levine expressed optimism that he would turn up in the general election ballot to take on Lara.
"We will be watching the results closely over the next few days, and if we are lucky enough to qualify for the general election, we look forward to consolidating support for our campaign, continuing to advocate for change and winning a victoire. for California consumers in the fall," Levine said.
As for transgender nurse Veronika Fimbres, a Green Party member who also ran in the insurance commissioner's primary, she won 2% of the vote based on unofficial results. The San Francisco resident was the first known statewide transgender job seeker to run for a primary ballot in California, as well as the first person living with HIV to do so.
The other candidates are not up to the task
Los Angeles gay city comptroller Ron Galperin failed to run for state comptroller. He landed in fifth place with 10.7% of the vote.
Sacramento lesbian district attorney Anne Marie Schubert, who quit the Republican Party and ran as an independent to be state attorney general, came in fourth place in her main contest with 7, 5% of the votes. Democratic incumbent Rob Bonta, who was nominated for the post, clinched first place with 54.5% of the vote.
In November, he is set to face GOPer Nathan Hochman, who was in second place with 18.5% on Wednesday. Efforts by Bonta supporters to boost Republican attorney Eric Early's chances in the primary appear to have failed, as he was in third place with 16.8% according to unofficial results.
After being named the state's junior U.S. senator, Democrat Alex Padilla easily won his special election on Tuesday to complete the remainder of his term with 54.3% of the vote. He also finished first in his primary race for a full six-year term with 53.5% of the vote and will run in November against GOPer Mark P. Meuser, who took second place with 14.3% of the primary vote. .
Republican Lanhee Chen now has the best chance of any GOP candidate in several years at being elected to a statewide office. He took first place in the primary Controller race with 37% of the vote.
Comptroller candidate Malia Cohen has qualified for the November general election. Photo: Cohen Campaign
But he will face a fierce Democratic opponent in the person of Malia Cohen, a former San Francisco supervisor and police commissioner. Now a member of the State Board of Equalization, Cohen secured second place in the Controller primary race with 21.3% of the vote.
California Treasurer Fiona Ma, also a former San Francisco supervisor, appears to be heading for re-election in November despite accusations that she abused her staff by having them share hotel rooms with her. She easily took first place in her primary race with 57.6% of the vote and in the fall will face GOP challenger Jack M. Guerrero, who placed second with 21.3% of the primary vote.
Democratic State Superintendent of Public Instruction Tony K. Thurmond, who took first place in his primary race with 45.7% of the vote, is also expected to be easily re-elected. With three of his challengers all at around 11% of the vote on Wednesday, it remains to be seen who he will run against in November.
After decisively rebuffing an attempt to recall him last year, Gov. Gavin Newsom faces a relatively easy re-election bid this year. Without much campaigning ahead of the primary race, the former San Francisco mayor and supervisor took first place in Tuesday's contest with 56.3% of the vote.
He will now face State Senator Brian Dahle (D-Bieber), who landed in second place with 16.8% of the vote. Among the 26 candidates in the governor's primary was independent Reinette Senum, a lesbian and former Nevada City mayor who won 0.6% of the vote, for a total of 21,670 votes, according to unofficial results Wednesday.
Democratic Lieutenant Governor Eleni Kounalakis also placed first in her primary, with 52.1% of the vote. She will face Republican Angela E. Underwood Jacobs, who was in second place with 19.9% ​​of the vote in the primaries in the fall.
Former Democratic state lawmaker Shirley Weber, Newsom's nominee for secretary of state, was also first place in her main contest on Tuesday with 58.8% of the vote. Competing against her in November was GOPer Rob Bernosky, who placed second with 19.5% of the primary vote. Gay Green Party member Gary Blenner finished in fifth place with 2.6% of the vote.
For State Board of Equalization District 2, which includes the Bay Area and much of coastal California, former Democratic state assemblyman Sally Lieber was in first place with 51, 5% of the votes. She will face Republican Peter Coe Verbica, who got 28.7%. Former San Francisco supervisor Michela Alioto-Pier (D) was third with 19.8%.
Help keep the Bay Area Reporter going during these difficult times. To support local, independent, and LGBTQ journalism, consider becoming a BAR member.